Activities
Bell Ringing
Three of the Ministry Area Churches have bells that are hung for full-circle ringing and in working order:
Holy Cross Church, Cowbridge (the Parish Church) has a complete ring of eight bells from the Evans foundry at Chepstow, dating from 1722.
St. John the Baptist Church, Llanblethian has a ring of six, the oldest bell (dated 1680) being the tenor, another Evans bell. There is a mixture of other founders, the most recent to work here being Whitechapel Bell Foundry who cast the second bell in 1995 to replace an unsatisfactory bell which is now housed in the baptistry.
St. Hilary Church is in the village of St. Hilary, 1½ miles Southeast of Cowbridge. This tower contains a ring of six, consisting of Rudhall bells dating from 1742, which were recast into a ring of five by Taylors of Loughborough in 1906. As a community project to mark the beginning of the third Christian Millennium, Taylors added a treble, which was dedicated by the Archbishop of Wales on March 20, 1999.
(A fourth tower, at St. Mary Church, 2½ miles South of Cowbridge, has four bells, which await restoration)
Ringing at these churches is arranged by a Parish band, which moves around all three churches for practice nights, and for Sunday service ringing. A Parish Ringing Master, who works in co-operation with three local Tower Captains, directs the ringing. Visitors are, of course, always welcome to join in Sunday ringing and practice nights. Enquiries are also welcome from potential new members. For the current list of Sunday ringing and practice venues please click here:
---
Music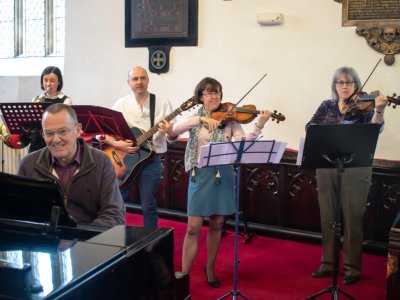 Holy Cross Church music group has been leading and supporting services for more than 20 years, mainly for the 11.00am service cycle, but also for occasions such as Christmas, Easter and local civic events.
The composition of the group, based on the organ/piano, consists of 7 enthusiastic instrumentalists currently, most of whom also combine vocally with others, to sing during Holy Communion.
Hymn choices for Sunday worship are a mix of traditional and contemporary congregational songs. Some original compositions are sung on occasions.
The group is informal and relaxed in its approach and always welcomes new members…..just turn up and join in!
Contact Richard Haines, organgrinder45@hotmail.co.uk
---
Home Groups
Mondays at 7.45 pm at Eastfield House
Sue and Kevin Freeland host a homegroup every Monday evening during school term time, starting promptly at 8pm via Zoom. Please contact Kevin or Sue if you would like to attend.
Kevin writes:
The evening normally lasts about 90 minutes and after opening in prayer and giving notices, there is a Bible Study which is led each week by a different member of the group (though no-one is obliged to lead). At the start of each term we discuss among the group a topic or book of the bible or a theme that we want to study and then follow that. This can be either from book study guides, DVD based or something else. The study normally lasts about an hour/hour and a quarter, and the remainder of the time is given over to prayer. Once a month we have a prayer evening, where we take a local, national and international issue and pray about that for the evening.
Contact either Kevin or Sue on 07896 830826
---